1. Favorite Holiday Movies/TV Specials?
A Claymation Christmas Celebration, 1987

2. Do you do any volunteering during the holidays if so what? If not what would you do?
I so far have not done any volunteering for the holidays or any other day. I would like to find a cause I feel passionate about. So far I'm thinking it would have to involve animals. There are some wonderful groups that try to help the stray cat population. Right now I feed four stray cats, all of which have been spayed/neutered by the local stray cat organizations.
3. Favorite toy received as a Child for the Holidays?
I don't know if they were my favorite, but I remember having a lot of fun with them. They were electronic drumsticks called "Hit Stix", and as you "hit" the air, they would make drum noises. I had a short lived fantasy of learning to play the drums when I was in elementary school. I think I went to two drum lessons, but this interrupted Art-time and I had to walk across the school yard to this tiny room and I hated missing anything in class. I was a weirdo who DID NOT like having a reason to leave class. (Plus the lessons were super boring...)
4. What was your must have item in high school for the Holidays?
5. Item you begged for the most and never got?
I don't think there was ever anything that I had to have (as far as my memory serves me, which if memory serves me correctly, its not very reliable). I was usually pretty pleased with my haul. My sister and I use to write down everything we got in our diaries. I wish I kept those...
6. What do you do on Christmas Eve?
For the past five years or so I go to my husband's family's house to play their version of "White Elephant". Every family/work seems to have a slight deviation on the game. His family buys inexpensive ($25 range) but useful items that people would want. So lots of plushy blankets, Tupperware alcohol, lottery tickets... that sort of thing. The children also play, but from their own pile of gifts that are kid friendly. The first person also gets to be the last person, which is pretty nice.
Hope everyone is enjoying their weekend!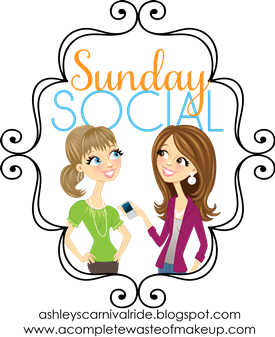 Linkin' up with
Neely
for Sunday Social.